A Look at the Upcoming PA & CA QSO Parties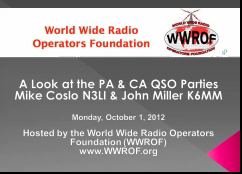 PA QSO Party chairman Mike Coslo N3LI and CA QSO Party representative John Miller K6MM provide an overview of their upcoming QSO parties.
Date: October 1, 2012
CQ WW Update 2012 by Randy Thompson K5ZD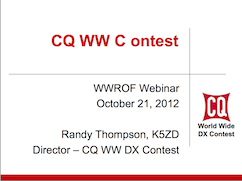 CQ WW DX Contest Director Randy Thompson, K5ZD, provided an update on the status of the contest including new rules for 2012, log entry tips, fair play, and various other topics of interest. Questions were answered following the presentation.
Date: Sunday, October 21, 2012